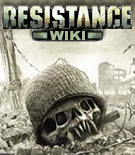 The Resistance Wiki is a wiki for the Resistance series, a series of console first-person and third-person shoorter games developed by Insomniac Games. Basically, think of it as an encyclopedia or a database for the Resistance series that anyone can contribute to.
The Resistance Wiki was founded on August 21, 2007 by Glaedr93.
If you have any questions contact any of the Users below.
Wiki Staff
[
]
Admin
[
]
Moderators
[
]