About
Resistance is a science-fiction horror series of first-person shooter and third-person shooter video games developed by Insomniac Games and published by Sony Computer Entertainment for the PlayStation 3, PlayStation Portable and PlayStation Vita game consoles. The series takes place in an alternate history 1950s, in which an alien civilization known as the Chimera have invaded and conquered Earth, expanding their armies by capturing humans and transforming them into monster-like supersoldiers to fight for them.
The series is noted for its use of both conventional and futuristic weaponry, reflecting Insomniac's previous work on the Ratchet & Clank series.
Featured Article
Did You Know
...that even though the Chimera possess advanced alien weapons, they occasionally use human weapons as well?
...The first chapter of Resistance 2 is named India Eight-Two Crash Site which means "Resistance 2" because in military terms, India stands for "I" and of course Eight(8) Two(2). Resistance: Fall of Man was originally codenamed I-8, hence when Resistance 2 (the sequel) came along it would have been named Resistance: Fall of Man 2 (I-8-2 = India Eight-Two)?
...that Joseph Evan Capelli was allowed into the army by Moral Waiver even though, in our timeline, it was set up in mid 1960's?
Dynamically changes - refresh me!
Contribute
Not sure where to start?

If you are new to wikis, check out the tutorial.
To write a new article, just enter the article title in the box below.
Featured Image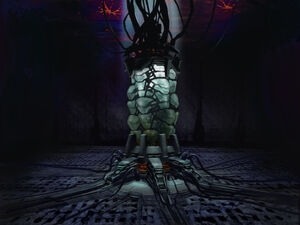 Concept Art of the Pure Chimera in Bryce Canyon.
Nominate and Vote here.
Recent News
[News]
Blogs
On 8th November, YouTube Channel snake uploaded a six minute video on the ongoing project dedicated to revive both RFoM and, eventually, Resistance 2 …
See more >