Paris is the capital of France and formerly the main stronghold of Chimeran occupied Western Europe. During the two year occupation, Paris became drastically juxtaposed with Chimeran architectures along with the excavation of a Chimeran hub tower (dubbed the Paris Tower) from within the city and the establishment of a unique conversion center known as the Chrysalis Lair which looms over the city's iconic monument, the Eiffel Tower; the city's surroundings was put into a static winter environment just as similar to Chimera-controlled London, to suit the Chimera's ideal environment.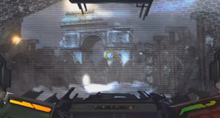 The Paris Tower fell on September 6th, 1951 when the Allied forces under the command of Maj. Stephen Cartwright had successfully destroyed the hub tower during the final assault of Operation Overstrike, allowing remaining human soldiers to retake and liberate Paris. Same as the previous battle in London when the tower fell, the Chimera became disorganized without the Chimeran hive mind and began to die out. Most of Western Europe was liberated from the Chimera, with the exception of Portugal, Spain, and half of Germany. In conjunction to the liberation, the Carrier strain was slowly eradicated throughout Europe and causing a temporarily disruption to the Chimeran conversion process attributed to the actions of James Grayson.
Hybrids can be seen marching through the streets of Paris, with the Eiffel Tower in the background, in the introduction cinematic.
Gallery