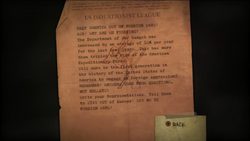 Isolationism is the fourth Intel document in Resistance: Fall of Man. It is found in the section level "A Lone Survivor" in York.
The United States is the world's best hope, but if you fetter her in the interests and quarrels of other nations, if you tangle her in the intrigues of Europe, you will destroy her powerful good, and endanger her very existance - Henry Cabot Lodge
KEEP AMERICA OUT OF FOREIGN WARS!
ASK! WHY ARE WE FIGHTING!
The department of War budget has increased by an average of 60% per year for the last five years. This has more than tripled the size of the American Expeditionary Force.
Will ours be the first generation in the history of the United States to engage in foreign aggression?
REMEMBER! ANSWERS COME FROM QUESTIONS, NOT BULLETS!
Write your Representatives. Tell them to STAY OUT of Europe! SAY NO TO FOREIGN WARS!