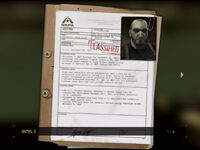 Name: Hawthorne, Aaron Lloyd
Sex: M
Height: 5'7"
D.O.B.: 3-May-25
Rank: Specialist
S/N: 879002
Unit: Echo Team
Supervising Physician: Hopper, George
SRPA Test Case: 80563-69A
OFFICIAL STATUS:
K.I.A. September 25, 1952
UNOFFICIAL STATUS:
Reclaimed by SRPA Tactical Ops September 25, 1952. Recruited into Sentinel Program
September 28, 1952. Currently under command of Major Richard Blake, acting Director
of Tactical Ops at SRPA Station 003 (SFCA).
PHYSICIAN'S NOTES:
Stage four inhibitors proved unsuccessful, most likely due to accelerated viral mutation
during live trial. Orders to terminate subject disallowed by senior physician (F.M.).
Stage five inhibitor treatment authorized September 27, 1952 at 0800 PST. All
subsequent checkups since this time have yielded positive results.
SENTINEL HISTORY:
Survivor, Project Abraham. Released to United States Army for clandestine
observation December 29th, 1950. Live trial determined to be successful.
Assigned to Sentinel Team Echo October 1, 1952 under the leadership of Lt. Hank Leavitt (KIA).
Awarded SRPA Gold Cross for exemplary service during OPERATION CHARON,
November 2, 1952.
CITATIONS:
NONE.