We're Getting Mutants in the MCU - The Loop
Play Sound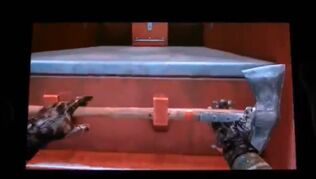 The Fire Axe is a melee weapon in Resistance: Burning Skies. The Fire Axe is the starting weapon that can be used in the game and can instantly kill any Chimera (except for certain boss strains such as Executioners and Impalers) with one hit. It is used by Tom Riley as his main weapon.
Strategy
[
]
With the Fire Axe you can only kill one Chimeran enemy at a time.
It is an effective melee weapon and is very useful against melee-only enemies, such as Grims.
It is also a useful melee weapon to conserve ammo.
Intel
[
]
"

January 18th, 1943

Helen and Tom,
They don't expect I'll recover from this one-burns are
pretty bad. I hope you get here in time-I'd like to see
your faces. I know you wanted me to get this taken care
of a long time ago. I'm shamed that it's as
simple as this, but it's what's so.

Last Will and Testament of Brian Colin Riley
(transcribed and witnessed by Aileen Cassidy)

I, Brian Colin Riley, being of sound mind and body,
declare that this is my last will and testament.

To my beloved wife, Helen Riordan Riley, I leave my
unending devotion. I guess you'll know what to do with
the house. You'll have my pension, which should see
you through. Darlin', thanks for sticking by me all
these years. You are still the most beautiful woman I've
ever seen.

To my son, Tom Redmond Riley, I leave my fire axe.
Son, I always wanted to see you transferred to Engine
174 so I could keep an eye on you. I guess my axe
will have to stand in to me. Take good care of her - she'll
take good care of you. I'm proud of you, son. You're
shaping up to be a fine man.

Signed,
Brian Riley

Witnessed,
Aileen Cassidy

"
Gallery
[
]
Trivia
[
]
Even though the weapon wasn't usable, a fire axe made an cameo appearance in Resistance 3, where it can be found in the hands of a Haven resident, who is sharpening the weapon.
Same as the Sledgehammer in Resistance 3, the Fire Axe is a melee weapon that is not upgradable.
The Fire Axe originally belonged to Brian Riley, who passed it down to his son Tom in his will. 
The word "Riley" can be seen on the wooden part of the Fire Axe.