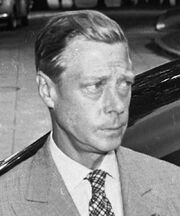 Edward VIII (Edward Albert Christian George Andrew Patrick David; born June 23rd, 1894) was King of the United Kingdom and the British Dominions, and Emperor of India from January 20th, 1936.
On April 1949, King Edward visited the United States on a supposed good will tour, and divulged information and concerns about isolationist Russia. In a closed meeting with President Noah Grace, Edward presented documentation purporting the existence of the Chimera. Knowing the American isolationist sentiment was against the United European Defence, he urged President Grace to help Europe combat the threat however he can. Edward soon left the US with more questions than answers.
After the Fall of Europe, it is probable that Edward was likely among the important personnel evacuated to the Avalon One colony in Australia.
Trivia
[
]
In real life, Edward VIII abdicated the throne on December 11th, 1936 - after less than a year of being king.
External Links
[
]