Bryce Canyon is located in southwestern Utah in the United States. Despite its name, this is not actually a canyon, but rather a giant natural amphitheater created by erosion along the eastern side of the Paunsaugunt Plateau. Bryce is distinctive due to its geological structures, called hoodoos, formed from wind, water, and ice erosion of the river and lake bed sedimentary rocks.[1]
Base Station Genesis
[
]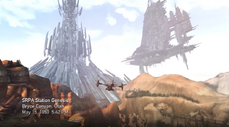 SRPA Station Genesis is located in Bryce Canyon, which was the research site of studying the canyon's Chimeran tower (the Bryce Canyon Tower) and its preserved and imprisoned "Pure Chimera" creatures. Joseph Capelli was transferred to Station Genesis after being experimented in Project Abraham on November 2, 1950. On December 15 of the same year, SRPA relieved Kenneth Danby from Project Abraham and recruited him in studying the age of the Chimeran tower.
When the Chimeran fleet invaded the United States in May 15, 1953 the Bryce Canyon Tower was activated by a Chimeran force led by Daedalus, becoming one of the initial towers (the other in Chicago) in the country of channeling a beam of energy. Following Lt. Nathan Hale's rescue of Dr. Fyodor Malikov from Station Genesis, Bryce Canyon had completely fallen to the Chimera. During its occupation the Chimera have established and utilized a series of nuclear reactors surrounding the Bryce Canyon Tower as conduits for the other nearby excavated Chimeran towers.[2]
Later, SRPA forces along with Specter Team was tasked in containing the Chimeran forces in Bryce Canyon, as well in procuring the large amounts of gray tech gathered in the region during the Operation Crucible on May 24. Also, as recommended by Dr. Malikov, the task force was to destroy the Chimeran nuclear reactors allowing a chain reaction that would destroy and destabilize all the connected towers within the region that is much similar to Nathan Hale's actions in the Battle of London.[2] By the end of June 9th, SRPA forces and Specter Team succeeded in containing the Chimera and importantly destroying the reactors causing the destruction of four neighboring Chimeran towers.[3] However, after Specter Team recovered the gray tech in Bryce Canyon to SRPA 11, the research team at SRPA 11 discovered that the recovered gray tech supports the theory of the Prometheus Weapon; furthermore, concluding that the Chimera are planning on assembling the weapon.[3][4]
Sources
[
]